Storage From St. John's Big Toy Lockers

We offer Classic Car, Boat and RV storage. We also offer indoor, outdoor and climate controlled units, as well as assisted parking if needed.
We offer this variety of vehicle storage types and sizes to meet any needs you may have.
We take pride in making sure our storage units are clean, secure & most of all affordable.
Feel free to call us anytime for your unit!
Indoor Climate Controlled (20 x 10)
Single spaced parking , which also includes, battery tender, monthly tire pressure check, monthly engine start
Large Private Enclosed (50 x 20)
Large private, enclosed unit
Covered Drive Thru (50 x 12)
Tenant protection plans not allowed.
Private Mini Storage (20 x 10)
9 x 9 door. Auto, small boat, jet ski or motorcycle
Private Mini Storage (30 x 12)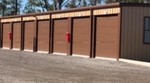 10 x 10 Door. Multi vehicle, up to 24' boat
Outdoor Open (45 x 10)
Outdoor Parking . Tenant Protection Plan not allowed
Outdoor Open (30 x 10)
Outdoor Parking . Tenant Protection Plan not allowed
Outdoor Open (20 x 10)
Outdoor Parking . Tenant Protection Plan not allowed